We're in Africa!
---
---

---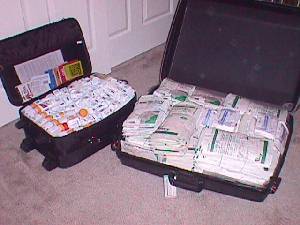 Loaded down with medications and supplies!
Click here for a list of what we're bringing.
---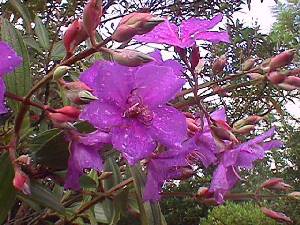 Monday, February 1, 1999

Well, we made it! Amazingly, the most difficulty that we had with security and customs was in Indianapolis! Currently we're in Mbabane, the capitol of Swaziland, staying with Dr. Ned Wallace, the project coordinator. This is a beautiful country - waterfalls, mountains, and flowers! There is also poverty like I've never seen before. (click on underlined links for more pictures)
---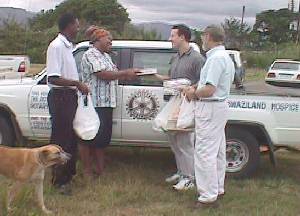 Wednesday, February 3, 1999
Stopped by the Swaziland "Hospice at Home" headquarters in Manzini to drop-off donated wound dressings, latex gloves, antibiotic ointment, and ibuprofen. A network of four visiting nurses and several support personel cover the home hospice needs of the entire country! They are a very kind, caring, and compassionate group filling a great need on a tight budget.
---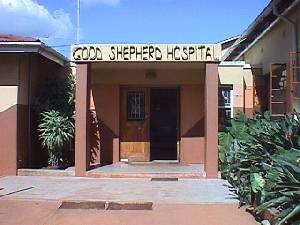 Thursday, February 4, 1999
We're so busy! It seems that every moment of the day is taken. We're back in Mbabane this evening after spending the last two days at Good Shepherd Hospital in Sitecki. The hospital is very crowded and quite simple, but the doctors, nurses, and patients are all so friendly and helpful. Abraham's parents,
Dr. and Mrs. Aby Phillip
, have kindly put us up in a cottage just behind their home. It is a very nice place, with a hot shower, small kitchen, and double bed.

Early tomorrow morning we leave for Kruger Game Park, known as one of the biggest and best parks in Africa. Hopefully we'll have some excellent pictures of the big 5 (elephant, lion, rhino, leopard, african buffalo) on the web site early next week!
---
---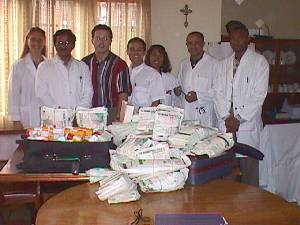 Wednesday, February 10, 1999
With a little hard work and a lot of generosity on the part of pharmaceutical representatives and others, we were able to bring a great deal of needed medications and supplies to Good Shepherd Hospital. To see where these donations are being used,
take a virtual tour of the hospital
!
So far we have seen a wealth of interesting illnesses including: typhoid fever, malaria, secondary syphilis, ectopic pregnancy, shingles with keloid (thanks Abraham), urinary schistosomiasis, tuberculosis, and HIV.
---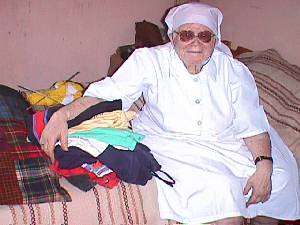 Friday, February 12, 1999
Whew! Survived a week of medicine on the women's ward. Each morning we round on 20-25 patients, typically seeing 3-5 new patients who were admitted the night before by the nurses. Very few of the patients speak English, but the nurses act as translators.
Pictured here is Sister Scholastica, the head Sister here at the Mission. Next to her are some of the donated childrens clothes that Kristi brought along in her suitcase. Sister is quite pleased with the donations and sends her thanks to Kristi's mother, Nancy, who helped to acquire them. Also pictured next to Sister are her knitting needles and yarn which she uses to knit stockings that she sells to help pay for school supplies for the children of the Mission.
---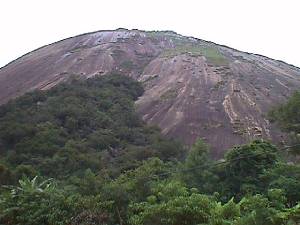 Saturday, February 13, 1999

We climbed Sibebe Mountain today! Three hours from top to bottom. A very friendly (and brave) yellow labrador accompanied us to the summit of this magnificent mountain. Earlier in the day, we went shopping at several roadside markets and purchased some fun African souvenirs.

Check out the all new Flowers of Swaziland - Part 2 (now with faster loading times)
---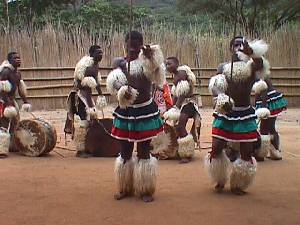 Sunday, February 14, 1999
Happy Valentine's Day! Visited the Swazi Cultural Village today. If your are familiar with the Conner Prairie frontier settlement, then the Swazi Cultural Village is analogous. We spent some time with the traditional healer and watched tribal dancing. Check out the
virtual tour of the Village
---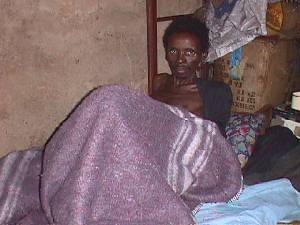 Monday, February 15, 1999
Visited hospice patients in their homes today with nurse Philele. Swaziland Hospice at Home provides care for terminally ill patients throughout all of Swaziland. Pictured here is Aaron, who required wound care and pain medications. Many of these patients live in isolated rural areas which are difficult to access. These visits are an excellent way to help out those in need and to meet the people of Swaziland.
Click here for more hospice visit pictures
.
---
Tuesday, February 16, 1999
Breast is Best! Each morning new moms line up on these benches in the hallway outside of the maternity ward to breast feed their infants while receiving instructions on newborn care from the staff nurses. Pictured here is only a small sample of the group, which typically numbers in the twenties.
---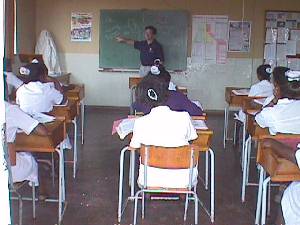 Wednesday, February 17, 1999
With the last remaining nursing school instructor sick in the hospital, drastic measures were called for. I was asked to teach the anatomy and physiology class for the first-year nursing students. With only an hour to prepare, my lecture on the workings of the urinary system was a bit rough. Despite this, the students seemed to enjoy it and actively participated in the discussion.
---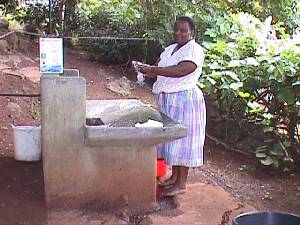 Thursday, February 18, 1999
The nurses are on strike! Today, all of the nurses in the country held a walk-out in protest of the delayed signing of some critical paperwork by the Minister of Health. With the hospital short-staffed, the nursing students were released from classes in order to fill in for the absent nurses. It is not known how long the strike will last.
Fortunately, Joyce (pictured here) is not on strike. She is the Phillips' house keeper and a real lifesaver. There are no washing machines here at Good Shepherd, so washing clothes means doing it by hand. Thank you, Joyce, for all of your hard work. Our clothes have never been so clean.
Click here
for some more fun pictures of life around Good Shepherd.
---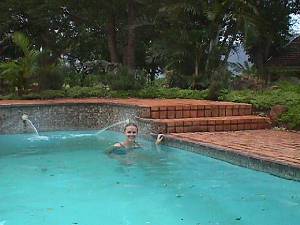 Friday, February 19, 1999
The start of a wonderful weekend of "being tourists." Friday afternoon we drove south to Mkuze, South Africa to spend the evening at the Ghost Mountain Inn. After a cool dip in the pool, we were treated to an excellent buffet featuring seafood and prime rib. Sampled a South African wine... a dry red Cabernet/Shiraz blend... quite tasty.
---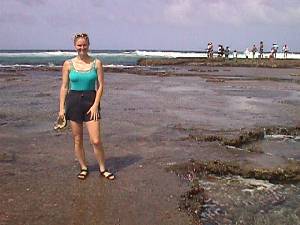 Saturday, February 20, 1999

Spent the day at the beach at Sodwana Bay on the Indian Ocean. Just getting here was quite an adventure, with a requisite 60 km drive on a dirt road riddled with ruts and crossed by two small streams. Its remoteness keeps it from being spoiled by commercialism, and its pristine beaches are a sight to behold. The coral reef protecting the bay made for some excellent snorkelling.

Stayed the night at the Sodwana Bay Resort and we were treated to another bountiful dinner buffet. Sampled another South African wine... this time a Blanc de Blanc... a blend of Savignon Blanc and Chenin Blanc grapes... even better than the previous nights selection. Check out more pictures from the weekend by clicking here.
---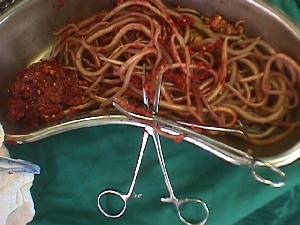 Monday, February 22, 1999

Not a day for the faint of heart! No folks, this is not spagetti and meatballs. This surprise finding was surgically removed from a 10-year-old who had come in with severe abdominal pain and vomitting. Remarkably, he had been feeling entirely well untill 2 days prior to presentation. With this massive ball of ascaris worms removed from his stomach, he is already feeling much better. For more interesting (and not so disgusting) medical pictures, click this link.
---
Tuesday, February 23, 1999
Visited with a traditional healer, or sangoma, today. Learned how each sangoma trainee is taught by older sangoma to use the insight of their ancestors to diagnose and treat various illnesses. Their medicines come from roots, herbs, bark, tree leaves, and animals, many of which are contained in the containers noted in the background.
Click here
to follow our journey to see the sangoma.
---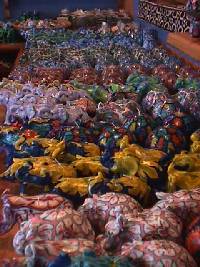 Wednesday, February 24, 1999
Spent a day touring and shopping on our way back to Mbabane from Good Shepherd Hospital. Our stop at the Swazi Candle Factory is pictured here. We watched the artists make the colorful candles in all shapes and sizes, including animals, cubes, and eggs. From this picture, you can see the beautiful colors and extensive variety. In the afternoon we went horseback riding at Milwane Game Park. For more fun pictures from the day,
click here
.
---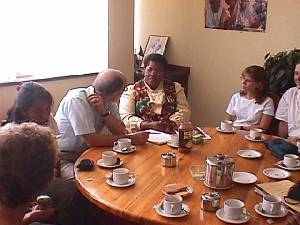 Thursday, February 25, 1999
Visited with the Minister of Health, Dr. Phetsile Dlamini (center). Discussed the state of healthcare in Swaziland, particularly the crisis that HIV/AIDS represents. After this we went to the
U.S. Embassy
and were oriented to embassy activities here in Swaziland. Finished out the day with an excellent meal at the Calabash, a very nice restaurant featuring German, French, Swiss, and Austrian cuisine.
---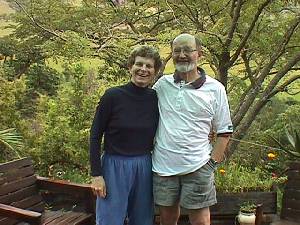 Friday, February 26, 1999
Today we head home! What an excellent month this has been, with many exciting new experiences and new friends. Special thanks to our hosts, Ned and Emily Wallace, whose wonderful hospitality and orchestration made our stay in Swaziland exceptional. Thank you, also, to all of you who have been following our journey, sending your prayers and email, and keeping us in touch with happenings back home.
---
We would love to hear from you. Click here to email Eric or here to email Kristi.


---

Visitors since May 8, 1999